Ann Walker Kennedy tells her personal story about her ailing parents and their pets, as she shares Ben and Charlie's journey:
Seven years ago my parents brought home two beautiful shelties, their names were Ben & Charlie. Mom and dad were living in their house at the time. A year later my mom was diagnosed with early stage dementia—dad was still in good health so they continued to live at home. A few months went by and we started to notice a change in dad, they ran some tests and came back with the diagnosis of Alzheimer's. The doctor told us that they could no longer live in the house alone. We found a beautiful retirement community that would accept dogs, so we moved them into their new home. Mom loved her puppies so much that she would always call them her "guardian angels" and we knew she would never move somewhere where they did not accept dogs.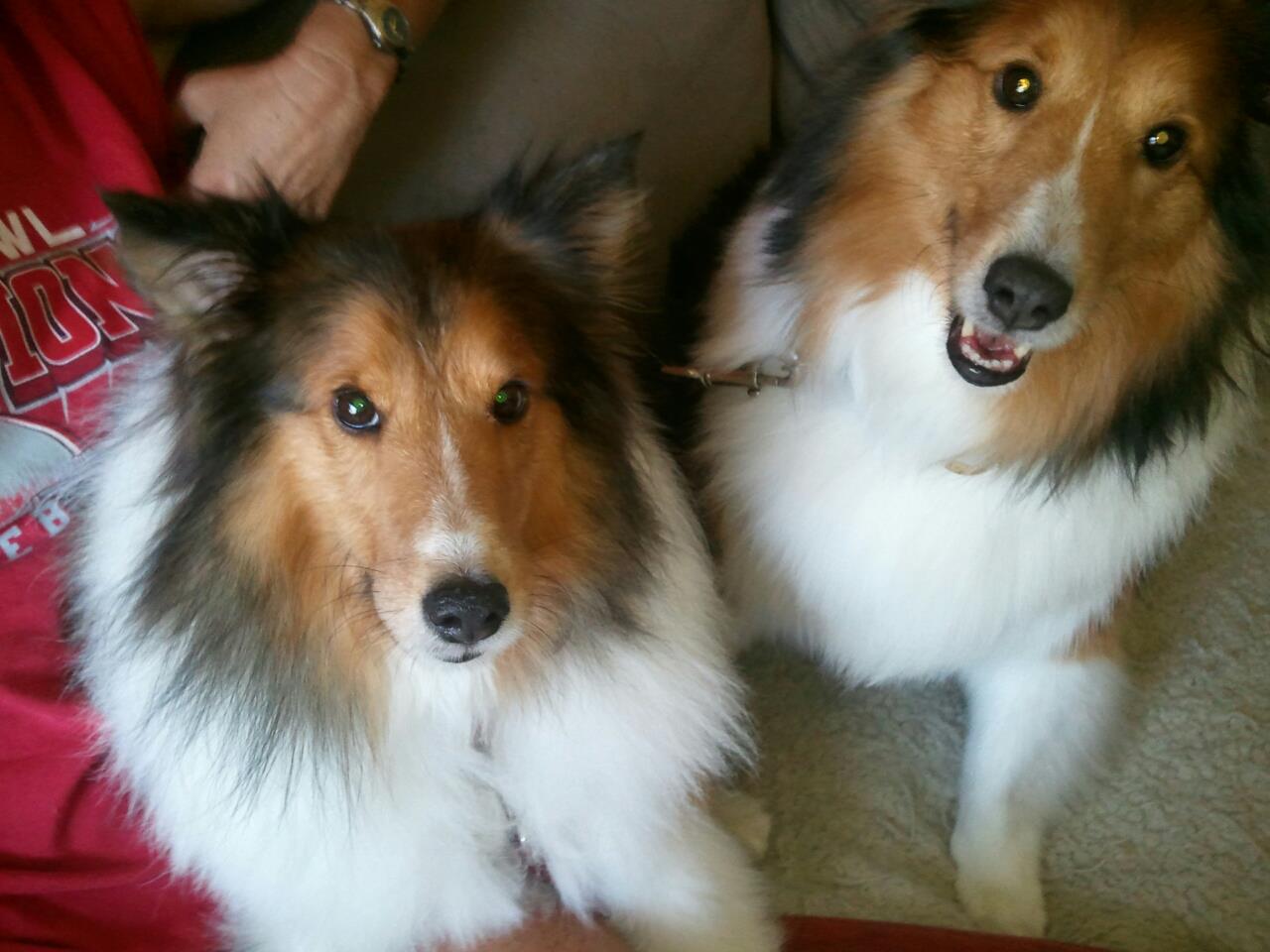 Years went by and life was good: everyone had adjusted to their new environment. Ben & Charlie were so loved not only by my parents but by all the other residents. People were always stopping by to see them. In March of 2011 mom's health was really deteriorating; her guardian angels Ben & Charlie never left her side. Mom and I had several talks about the dogs and she told me that she knew I would take really good care of them. A few days later we lost the most wonderful mom ever. The void was like one I have never felt and not only for us, but for Ben & Charlie too. They would lay in her bed with the most saddest faces I have ever seen, wondering when mom was coming home.
Weeks went by before we noticed them getting back to themselves. Dads Alzheimer's became really pronounced after we lost mom. He looked at us like he knew us, but had no clue we were his children. He could not remember the dogs names but he was always worried where they were if they were not close by. We watched as dad was getting deeper and deeper into the Alzheimer's, to the point where the beautiful retirement community could no longer meet his needs. So we were faced with making the hardest decision we have ever had to make: place dad in a nursing home that did not allow dogs. In November on 2012, we found a home for him where he would get the best care. I had Ben & Charlie at my house, till we could figure out who was going to be able to take them.
My husband and I have two very large dogs and we thought we would never be able to afford 4 dogs. I had posted on Facebook if anyone knew of a good home for Ben & Charlie. This just broke my heart and I could not stop crying thinking about all the transitions that they have had to go through in their short lives and this would be one of their biggest: going to a new home with none of us around. A friend of mine said that her parents might be interested in them and that they would give them a good home. All I could think about was mom and the conversations we had about Ben & Charlie. My heart was in pieces knowing we could not afford 2 more dogs. But out of nowhere, my sister who lived close by said that she would take care of any financial needs for the dogs if we kept them. What an unexpected blessing this was! This made all of us very happy knowing that they were going to stay in the family and be at their forever home for the rest of their lives.
I would take the dogs over to see dad often and he would be so excited to see them, and show them to all of the other residents who also loved seeing them. Life seemed to be on the right track until February when we had to call the hospice for dad. Dad started to spend a little more time in bed and when we would go and visit, the dogs would crawl up in bed with him and sleep with him till we had to leave. It was so sad to watch this knowing they were hurting as bad as we were. Complications set in on dad and we lost him at the end of February of 2013. Our lives seemed to crumble again, just like the time we lost mom.
Life is getting back to normal since we lost our wonderful dad, and I am so so happy that Ben & Charlie are with us. They are a constant reminder of why mom & dad loved them so much and now they are our guardian angels.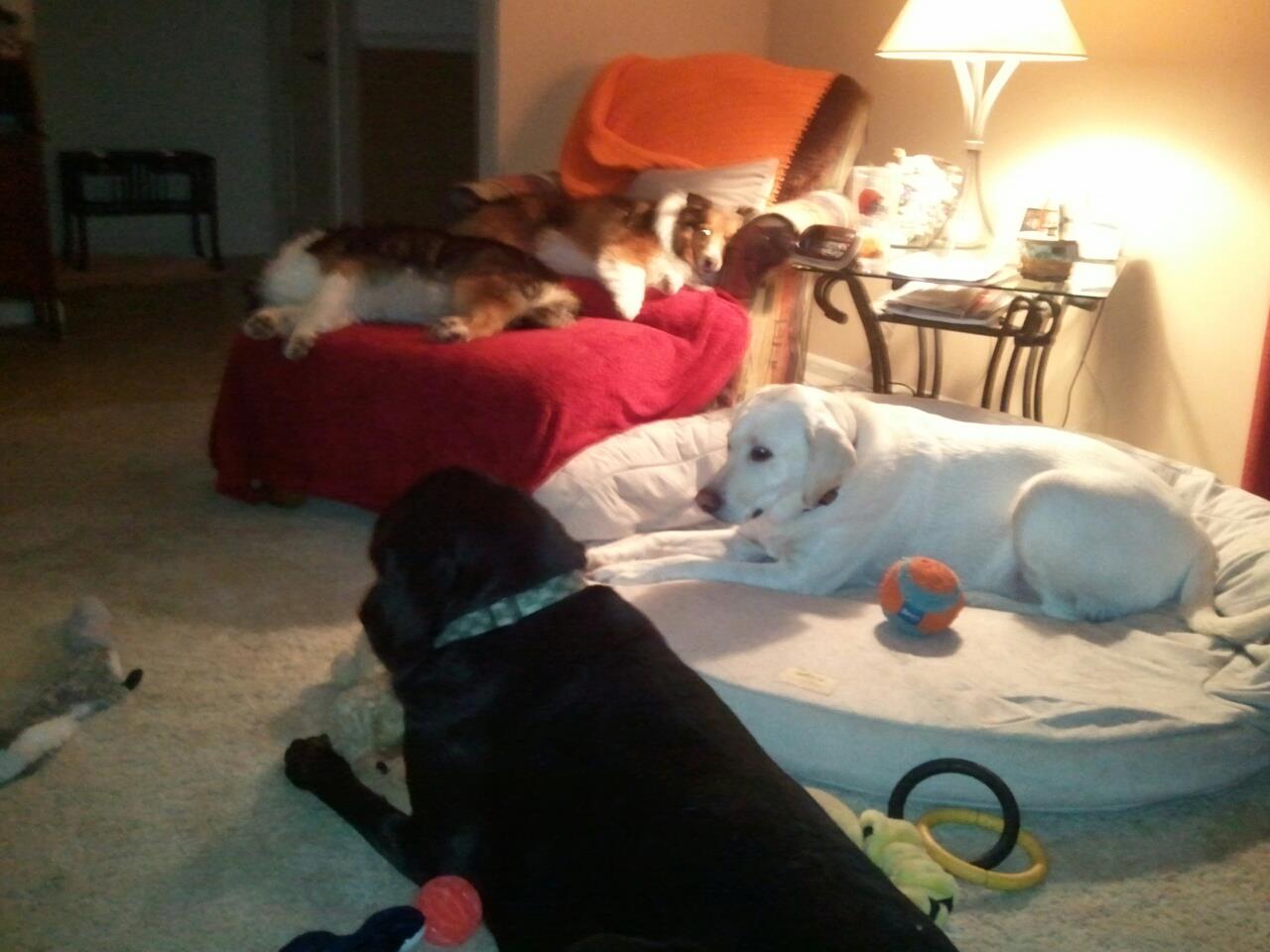 Help owners with their pets
Here are ways everyone can be an activist for animals, seniors, disabled or terminally ill humans:
Help an elder in your community care for their pet so the animal won't have to be surrendered. Help re-home the animal at the appropriate time.
Become a hospice volunteer who does the same.
Bring your best friend–a calm, friendly dog, cat or even bunny–to a nursing home for visits with residents. Best to do this with a pet-facilitated therapy organization.
http://cprpets.weebly.com/age-has-advantages-why-adopt-a-senior.html
http://cprpets.weebly.com/tribute-to-misty.html
Here's an awesome organization from California, which rescues senior dogs (and some cats) and also helps senior humans keep their pets:
http://www.peaceofminddogrescue.org/
Here's a great group from Massachusetts:
http://www.companionanimalsinretirement.com/
Great blog about Senior Pets:
http://petsalive.com/blog/